User research and insight management platform
No more Google Docs
Collect, organize, and share user feedback. Discover insights. Build amazing products.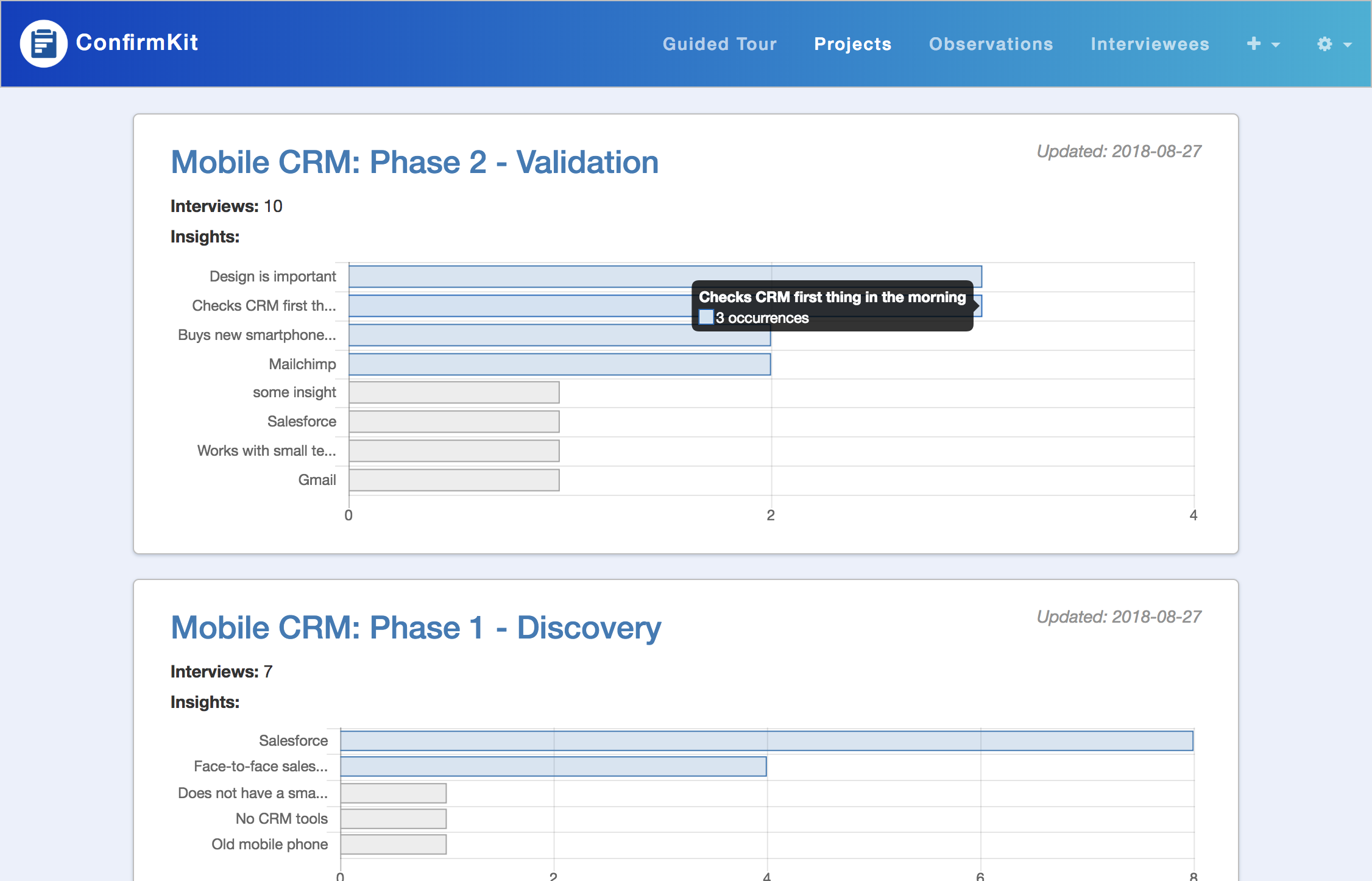 Get a demo
Discover patterns and trends
See which themes and insights are trending as your project progresses.
Your single source of truth
Store all your research data and findings in one place. ConfirmKit makes it easy to review, browse, and share.
Share and collaborate
With our built-in collaboration features, give your clients and stakeholders progress updates or get approval for your next iteration.
Let us show you what ConfirmKit can do for you. Request a demo here.
Features
Organized and consistent interviews
Interview scripts & Field guides
ConfirmKit allows you to build an interview script, also known as a field guide. Using these interview scripts you can have a consistent and reliable resource from which to base your conversations around.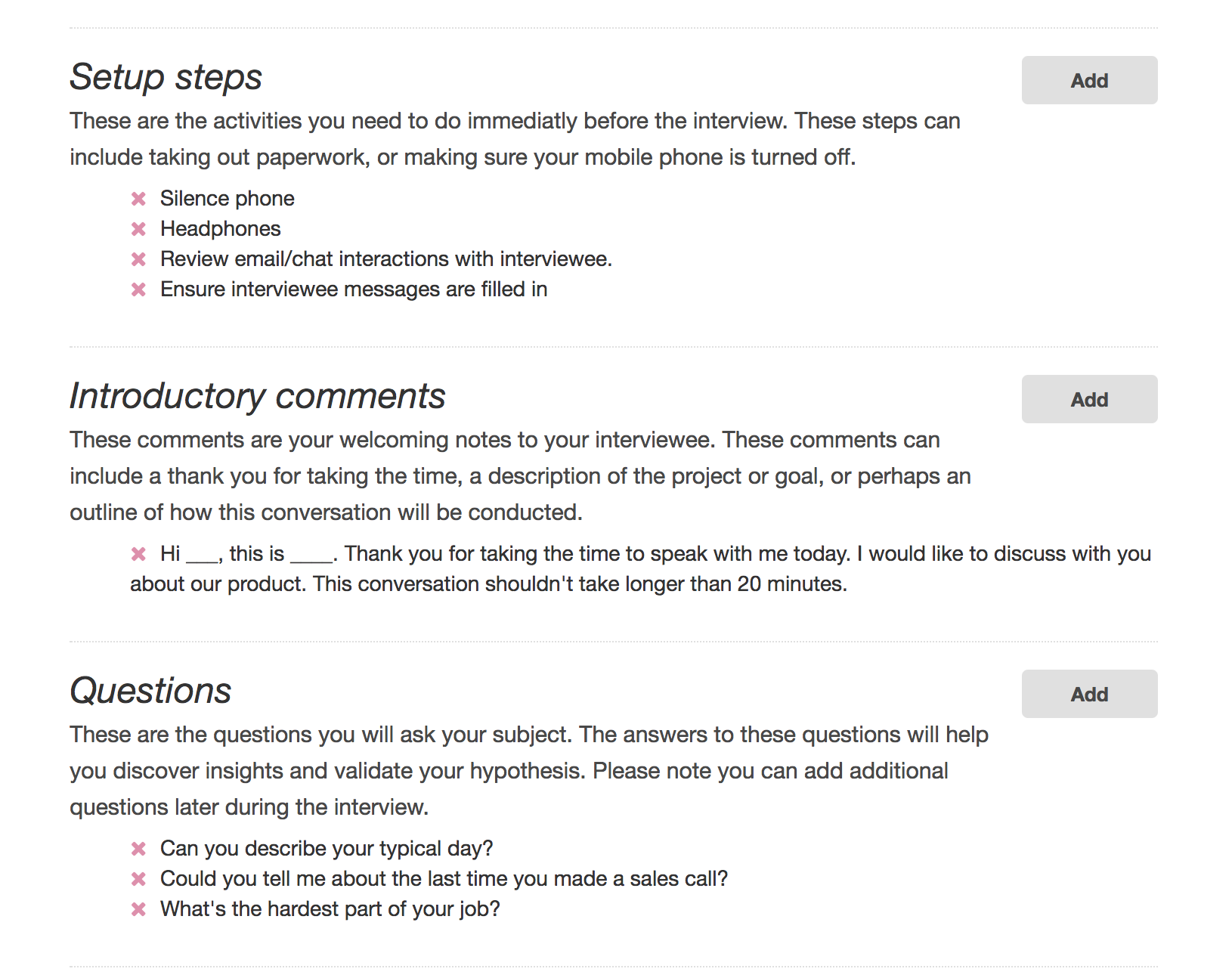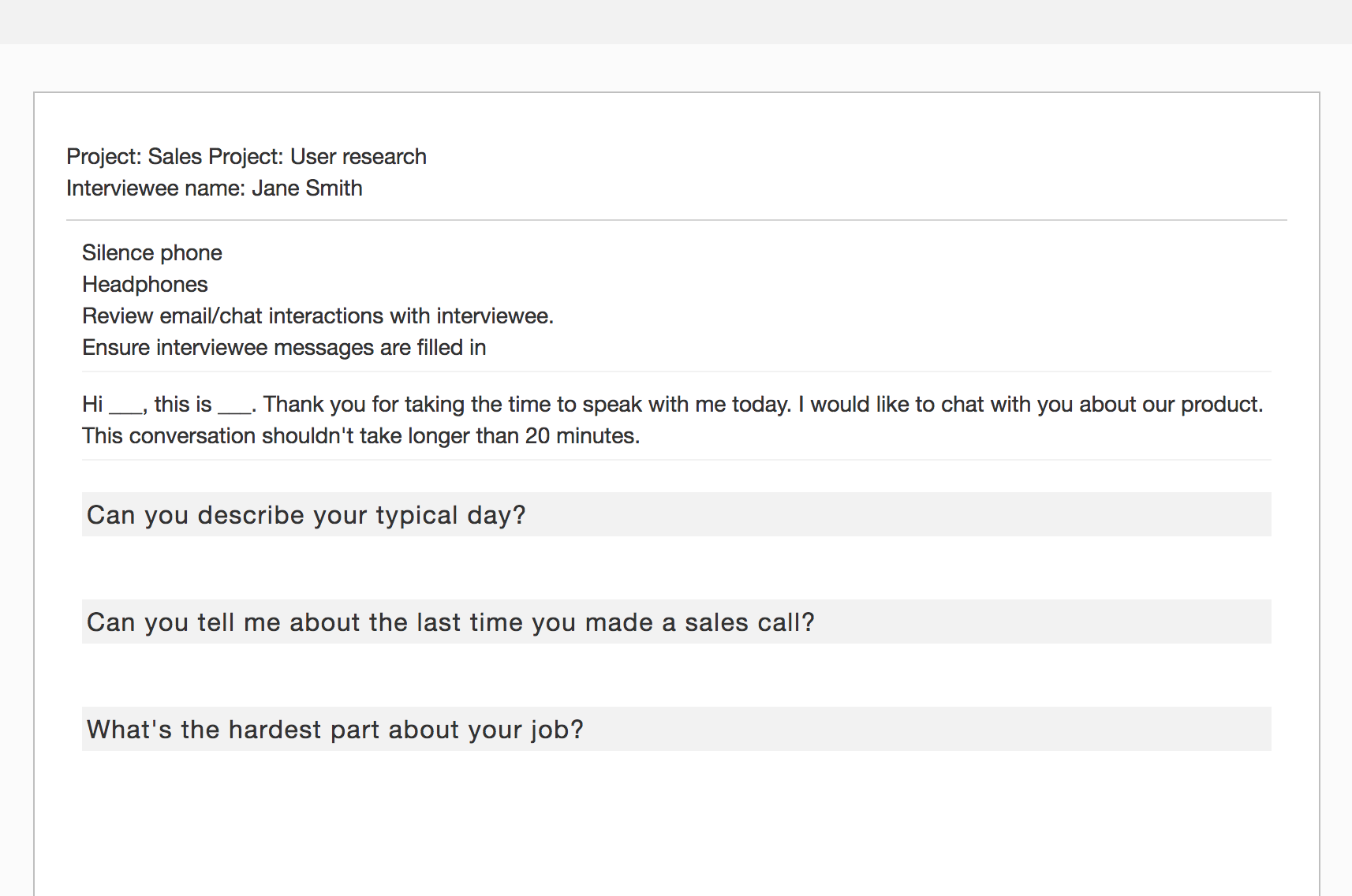 Flexible and open ended conversations
Smart interview forms
ConfirmKit's interview forms display your interview scripts. These interview forms are flexible enough to handle any dynamic conversation and yet remain visually familiar and intuitive.
Simple and quick data analysis
Interview analysis forms
Use ConfirmKit's interview analysis forms to reliably breakdown the feedback you've just received. The analysis forms allow you to cleanup your data, summarize any important information, as well as identify any insights you feel are important or interesting.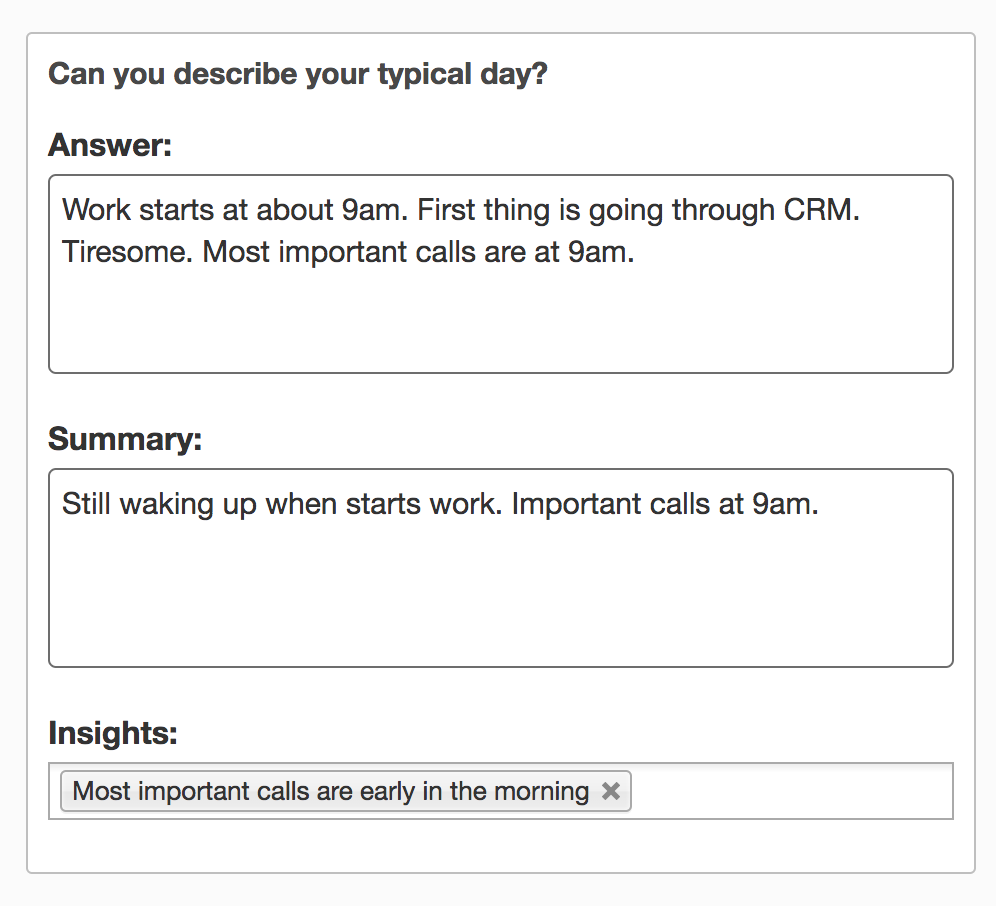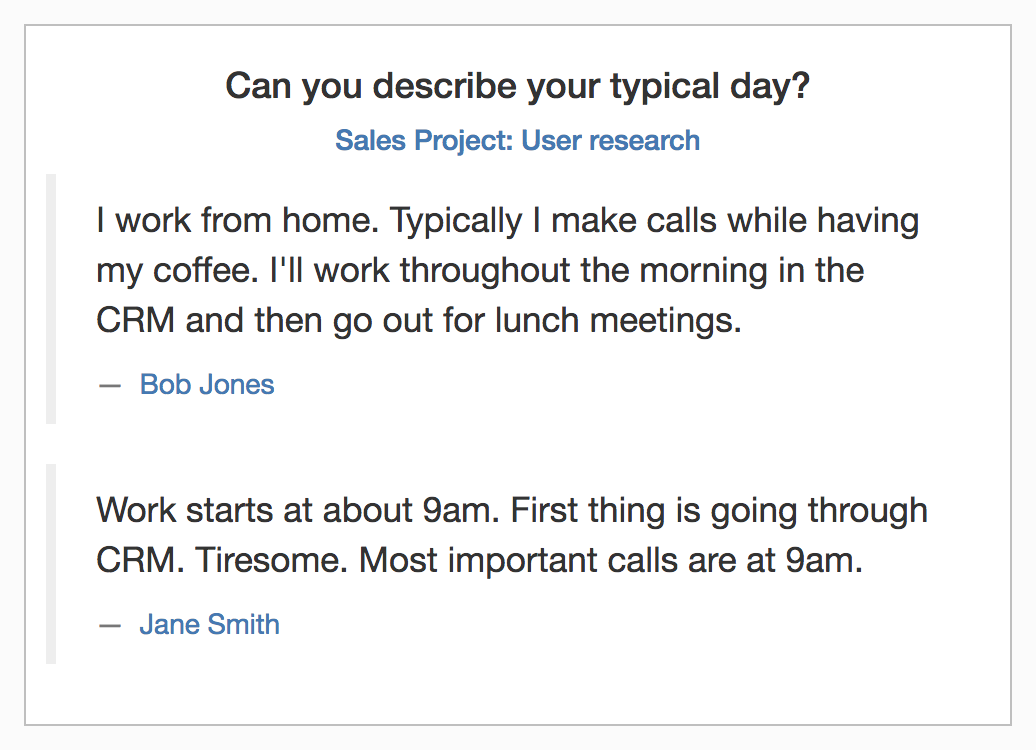 View responses side by side
Response slicing
ConfirmKit allows you to compare your responses side by side in order to further review and analyze your data. By doing so, you can identify patterns within your data that is not immediately noticeable when viewed separately.
Review interview results and choose the next steps
Insight aggregation
When analyzing your data you can tag interview responses with reusable insights. Over a series of interviews, clear insights and patterns emerge. Use these patterns to drive the next set of interviews or to further refine your road map.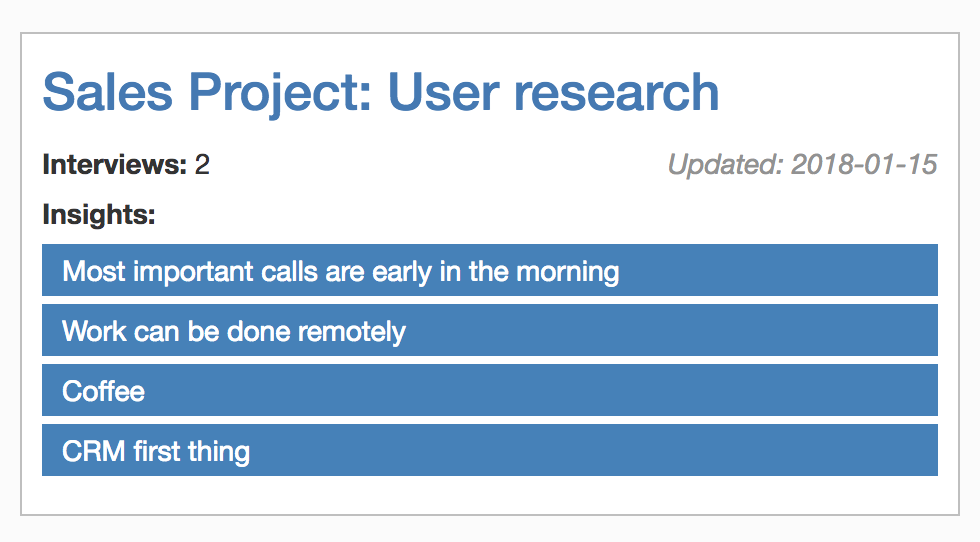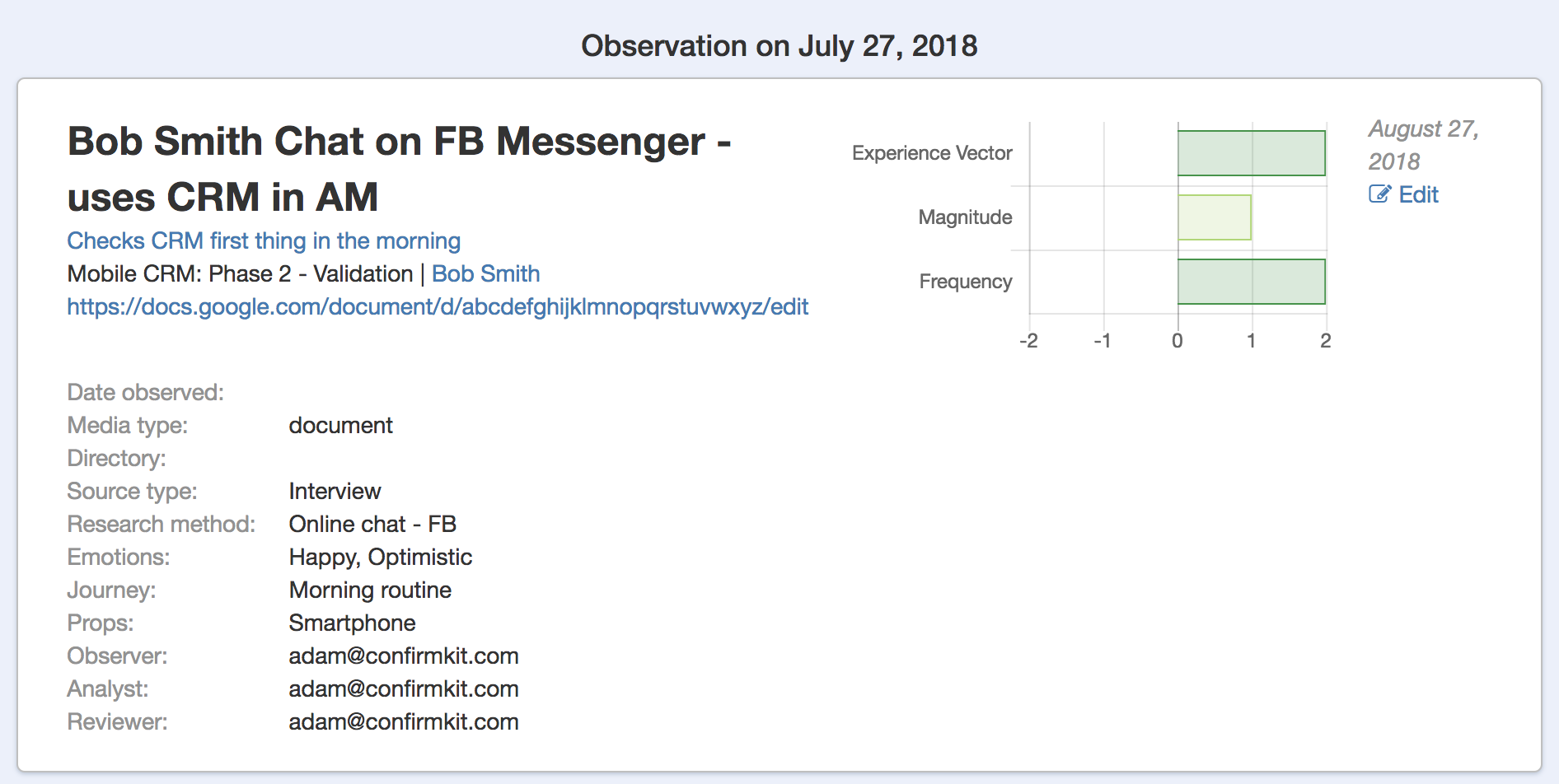 Collect user feedback from anywhere
Observations
User feedback is everywhere. With Observations ConfirmKit lets you collect the data from anywhere. No restrictions. Best of all, once you have added an observation, you can use it in your research projects and treat it like any other piece of information you have collected.
How can you standardize an interview and keep it flexible? Request a demo and we'll show you.
Pricing
One Project
1 Project

3 Users

12 Interviews

25 Observations
BUY NOW
yearly (save 25%)
monthly
Unlimited Research
Unlimited Projects

Unlimited Users

Unlimited Interviews

Unlimited Observations
CHOOSE PLAN
Frequently Asked Questions
How secure is my data?
ConfirmKit is deployed to a highly secure and reslient cloud platform. Our service sits in a self contained environemnt, with isolated processes, memory, file system, and database. The platform hosting ConfirmKit is an industry leader known for its secruity and best practices.
Can you give me a demo?
Of course. If you want a walk through please reach out to us at Email.
Do you offer discounts?
You bet! If you sign up for a 1 year plan you get 10% off. We are also debating implementing a larger discount for plans beyond 1 year. Does this sound interesting to you? Let us know at this Email address.
Can I cancel at anytime?
Yes, you can cancel whenever you like. It's as simple as going to "Settings" and clicking on "Close account".
How does the 14-day free trial work?
Once you have signed up and chosen your plan you will automatically be set to a 14-day free trial. Your card won't be charged until the trial is over. During this 14 day period you can cancel at any time. We will also email you letting you know when your trial is about to end so that you can decide if you'd like to continue with the service or not.
I accidentally forgot to cancel my subscription. Can I get a refund?
You sure can. We want to make sure that even if you are not a customer, you have a great experience with us. Please reach out to us here.
What if we need more time after the free trial is over?
If you want your trial extended just reach out to us and we'll extend it. Life should be easy like that.
In 15 minutes we'll show you how easy interviews can be. Book a demo here.
Want to stay in touch but not ready to sign up?
Add your Email and we'll keep you in the loop of what we're working on and we promise to never spam you.