So you're going to talk to users.
Now what?!
ConfirmKit is the modern user research platform that helps you and your team to talk to users in an approachable and efficient manner. Now everyone in your organization can meaningfully contribute to making your products better.
&nbsp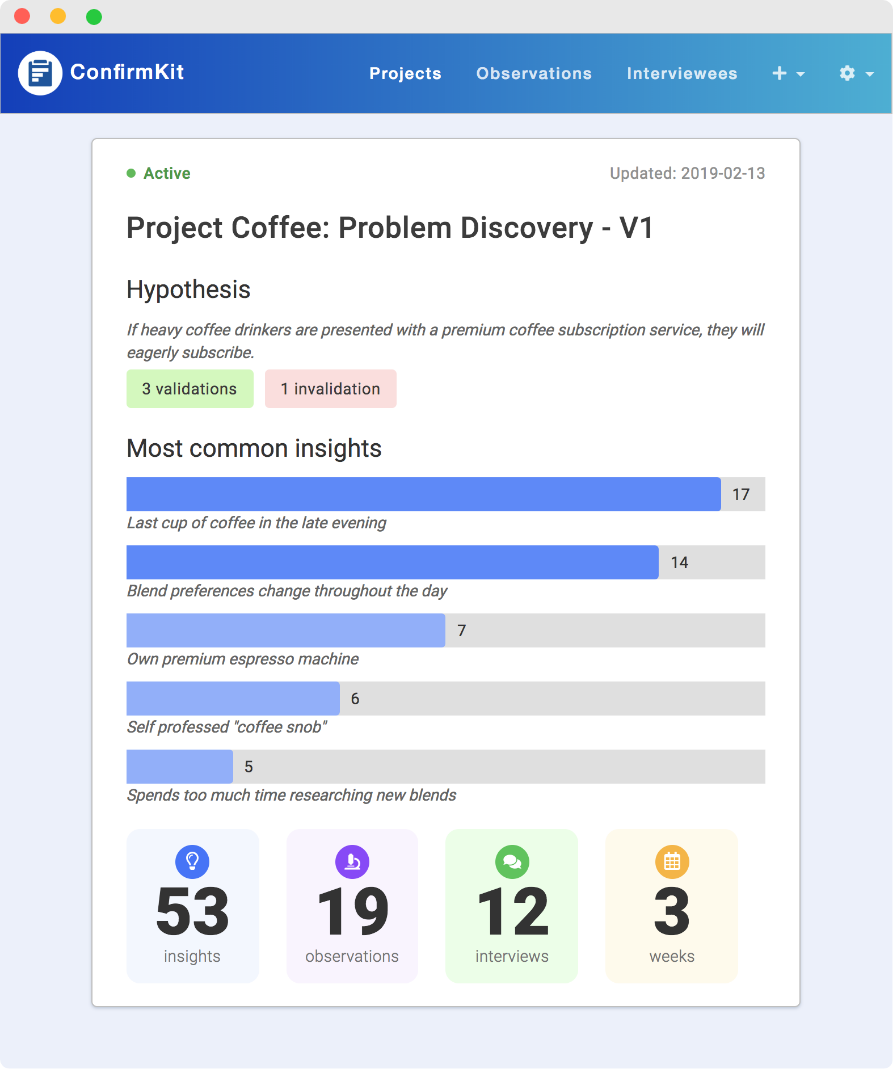 Discover what your users really want
Identifying patterns and trends between interviews can be a time consuming effort. Let us do it for you. Now you can focus on your users and we'll show you the patterns.
Conducting interviews is easy
Creating an interview guide, reviewing notes, and remembering all the little details before you start an interview can be error prone. We've got you. With ConfirmKit, you only need to prepare once. Our platform systematizes your user interviewing process.
Never lose your research data again
Many organizations have their data located in different silos. Research is stored in Google Drive, Excel, e-mail, and even in people's heads. Let's get organized. Conduct your interviews with ConfirmKit and your data will be stored, organized, and analyzed all in one place.
Features
Interview scripts & Field guides
Fast and effortless interview preparation
Say good-bye to monotonous work. No need to copy/paste a document, dragging files into folders, or duplicating effort.

Have a last minute interview to conduct? No need to rush to prepare, your guides are waiting for you.

Shuffling paper (or documents) can be error prone. You'll thank your past self having prepared these templates.
Smart interview forms
Expect the unexpected
Have the flexibility to go off script whenever you need to.

Everything you need to ask is right at your fingertips.

A familiar interface so you can focus on what matters.
Interview analysis forms
Quick and insightful data analysis
Add new insights or connect existing ones.

Keep your conclusion close to the data.

As you move through the interview, the data moves with you.
Response slicing
Discover even
more

insights
Get a global view by seeing all your responses side-by-side.

Go deeper and filter responses by question or insight.
Insight aggregation
Learn and discover from the very first interview
Clearly see emerging trends.

No waiting required. Your data is analyzed and aggregated as you interview.

Guide the research and your team as the data becomes apparent.
Observations
Unlimited opportunity to discover from anywhere
Augment your research with any data you find insightful.

Data is everywhere, and you can use it in your research.

Enhance your research from online chat, e-mail, online forums, existing research, and any place you can think of.
Pricing
One Project
1 Project

3 Users

12 Interviews

25 Observations
yearly (save 25%)
monthly
Unlimited Research
14-day free trial

Unlimited Projects

Unlimited Users

Unlimited Interviews

Unlimited Observations
Frequently Asked Questions
What's the difference between One Project and Unlimited Research?
Unlimited Research offers unlimited use of ConfirmKit. The benefit of unlimited use is that with multiple projects you can iterate on your hypotheses and assumptions. One Project is for those who have a specific hypothesis or area they would like to test without committing to multiple iterations. One Project comes with usage caps, while Unlimited Research has no usage caps and includes a 14-day free trial.
How secure is my data?
ConfirmKit is deployed to a highly secure and resilient cloud platform. Our service sits in a self contained environment, with isolated processes, memory, file system, and database. The platform hosting ConfirmKit is an industry leader known for its security and best practices.
Can you give me a demo?
Of course. If you want a walk through please reach out to us at Email.
Do you offer discounts?
You bet! If you sign up for a 1 year plan you get 25% off. We are also considering a larger discount for subscriptions beyond 1 year. Does this sound interesting to you? Let us know at this Email address.
Can I cancel at anytime?
Yes, you can cancel whenever you like. It's as simple as going to "Billing" and clicking on "Close account".
How does the 14-day free trial work?
Once you have signed up for a monthly or yearly plan (not One Project) you will automatically be enrolled to a 14-day free trial. Your card won't be charged until the trial is over. During this 14 day period you can cancel at any time. We will also email you letting you know when your trial is about to end so that you can decide if you'd like to continue with the service or not. Please note: the 14-day trial is for a monthly or yearly subscription (Unlimited Research) not the One Project.
I accidentally forgot to cancel my subscription. Can I get a refund?
You sure can. We want to make sure that even if you are not a customer, you have a great experience with us. Please reach out to us here.
What if we need more time after the free trial is over?
If you want your trial extended just reach out to us and we'll extend it. Life should be easy like that.
Want to stay in touch but not ready to sign up?
Add your Email and we'll keep you in the loop of what we're working on.
Your Email is private and we won't share it with anyone.